About
"I paint to share the corners that I've found beautiful with my fellow neighbors on planet Earth."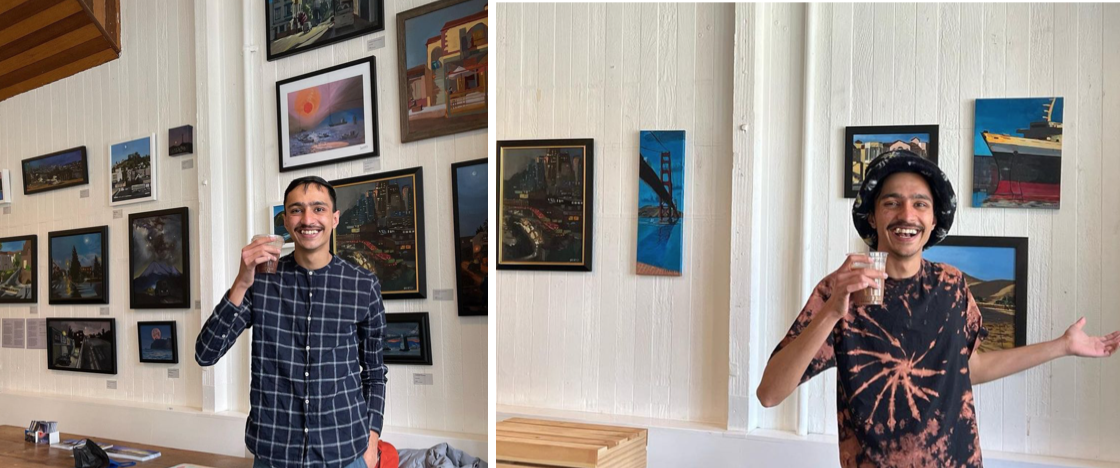 Shrey Purohit (B. 1997) graduated from California College of the Arts (2020). As an emerging Indian artist from Mumbai and based in San Francisco, Shrey Purohit is deeply inspired by the vibrant and chaotic energy of the urban landscape.
A two-time winner of the Plein Air Salon Award (2020 and 2021). His work explores the intersection of reality and surrealism in the cityscape, creating a dreamlike interpretation of the built environment. Through the use of bold color, dynamic compositions and intricate detail, Shrey aims to challenge the viewer's perception of the familiar and encourage a deeper engagement with the urban landscape.
The acrylic paintings range from representational depictions of recognizable cityscapes to more abstract compositions that draw from elements of the urban environment. His urban surrealist works are characterized by a distinctive blend of whimsy and humor, combining surreal imagery with the grit and grime of the city. Meanwhile, his landscape paintings capture the quiet beauty and peacefulness of the natural and suburban world, providing a peaceful escape from the chaos of the city. Through his work, Shrey aims to create a dialogue about the relationships between people and their environment and the impact that our built surroundings have on our lives.

His paintings have been exhibited at City Hall and galleries in San Francisco, and his works are collected by art lovers across the United States. Besides making art, Shrey is known for his curation work and founding Ingleside Gallery, (2021-2022) an experimental art gallery in San Francisco that supported and showcased emerging artists.

Select Exhibits
A First– Solo show, Mumbai Jan 2020
A Second– Solo show, Mumbai Jan 2021 Farley's– Solo show, San Francisco May 2021
Ingleside Art Show– Group show, San Francisco June 2021
ArtSpan SF AIN Cumaica– Group show, San Francisco March- June 2021
Ingleside Gallery Group Show #1, San Francisco Sept 2021
City She Loves You and Me, Solo Show, San Francisco Sept 2021
Mission Stories, Evolved SF, March 2022
Curators Creations– Two person show with Neil G. Ballard, April 2022
Farley's– Solo Show- San Francisco May 2022
District 7 Supervisors office - Solo show at City Hall May - Sept 2022
District 11 Supervisors office - Group Show at City Hall July 2022
Awards
Best Student Painting by the Plein Air Salon Aug 2020
Top 25 Finalist Plein Air Annual Salon 2020
Best Under 30 Painting by Plein Air Salon July 2021
Murals
Tom Colcord, FB Open Arts Mural, June 2021
That's Amore Parket, July 2021
Shrey Purohit, Meta Open Arts Mural, Feb 2022